Joint Replacement

Joint replacement surgeries at Orthopedic Associates in St. Louis are performed by orthopedic surgeons with additional education and training in joint replacement procedures of the hip, knee, shoulder, ankle, elbow, wrist, and finger joints. All of our surgeons are board-certified by the American Board of Orthopaedic Surgery, which is an additional mark of distinction that extends beyond minimum standards and competency for their specialty, and several have additional education and focus on specific areas of the body. The joint replacement procedures and techniques performed by our surgeons vary and are determined by your individual condition or injury, though each individual doctor stays abreast of the latest advancements, techniques, and innovations to provide each patient with the best possible outcome.
Because joint replacement procedures involve removing and replacing a damaged joint with an artificial joint or prosthesis, some procedures require an overnight stay in a hospital setting. However, recent advancements in some areas of the body have led to outpatient joint replacement procedures, which allow patients to return home the same day as their surgery. Our joint replacement specialists, Dr. James Burke, Dr. Richard Hulsey, Dr. Robert Kramer, Dr. Christopher Mudd, Dr. Ryan Pitts, and Dr. Patrick Sweeney, have experience in both inpatient and outpatient surgeries and will work with you to determine your best course of treatment. Additionally, since nearly every orthopedic treatment may require several diagnostic tools and postsurgical care, our practice has committed to offering you those conveniences on-site at our practice location on Old Des Peres Road.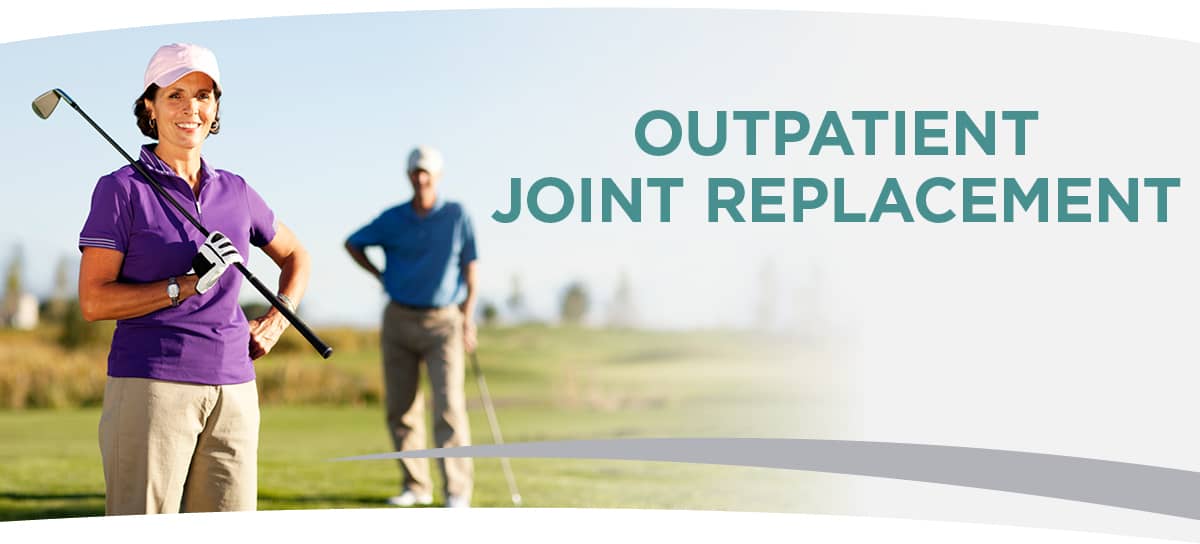 At Orthopedic Associates, we are committed to providing you with superior access to exceptional joint care for the hip, knee, and shoulder. That's why we proudly offer a comprehensive outpatient joint replacement program that features a dedicated nurse navigator so that you can receive the exceptional care and support you deserve throughout the entire process.
Like more traditional joint replacements, outpatient joint replacement involves the replacement of damaged or diseased joint components with new, specially designed joint prosthetics. The difference is in the techniques used. Surgeons performing outpatient joint replacement procedures use minimally invasive techniques that preserve more of the healthy tissues and minimize muscle disruption and blood loss. This surgical approach allows patients to leave the same day of their surgery and immediately begin their at-home recovery.
In addition to the support of a dedicated nurse navigator, the following are some of the other benefits you'll experience with our comprehensive outpatient joint replacement program:
A comfortable environment at our state-of-the-art Des Peres Square Surgery Center
Care from a specialty-trained joint replacement surgeon
Modern opioid-sparing anesthesia techniques and minimally invasive surgical approaches
Lower cost compared to traditional joint replacement surgery
Reduced risk of infection exposure due to avoiding the hospital environment
The ability to go home the same day your surgery is performed
The convenience of a one-stop shop for all your orthopedic needs: pre-op and post-op care, surgery, lab tests, prescriptions, and physical therapy
WHAT IS A NURSE NAVIGATOR?
A nurse navigator is an orthopedic nurse who provides patients with education and support throughout their joint replacement journey. They serve as a main contact person to patients and can provide:
Community resources for patients and family
Pre-op and post-op information and education
One-on-one "concierge" support during the entire recovery process
To learn more about our outpatient joint replacement program or to schedule an appointment with one of our joint replacement experts, request an appointment online or call (314) 569-0616.
SIGNS YOU MAY BE READY FOR A JOINT REPLACEMENT
Your specific type of joint pain or symptoms offer insights into your condition or injury. If you are experiencing any of the following, you may need to consult with a joint replacement expert:
You find you need assistance with daily routines or tasks.
You're experiencing pain that keeps you up at night and/or is not relieved with rest.
Conservative treatment options to alieve your pain are no longer effective.
Symptoms are getting progressively worse with time or activity.
You are feeling worn down physically, emotionally, and mentally from your condition.
ioveraº Cold Therapy
Our minimally invasive cold therapy treatment provides you with targeted relief for your pain.
SUPERIOR ACCESS TO EXCEPTIONAL JOINT CARE
At Orthopedic Associates, our team of board-certified specialists and staff strive for excellence in orthopedic medicine and podiatry, offering exceptional knowledge and skill in every patient encounter. When diagnosing injuries and conditions, our doctors consider all factors and options before offering a care recommendation and are committed to attempting nonsurgical treatment options first before recommending surgery. Our joint replacement surgeons, Dr. James Burke, Dr. Richard Hulsey, Dr. Robert Kramer, Dr. Christopher Mudd, Dr. Ryan Pitts, and Dr. Patrick Sweeney, will work with you to develop a custom treatment plan that meets your individual needs and concerns.
However, for advanced conditions or serious injuries, joint replacement surgery, such as a total or partial joint replacement surgery, shoulder replacement, or total ankle replacement, may be the best treatment choice. If this is true for you, you can move forward in confidence knowing our dedicated joint surgeons are board-certified, have additional training, and will perform the procedure with care, skill, and precision.
All along the way—from diagnosis to treatment and surgery as well as postoperative recovery—we are here for you. Our additional services, including digital X-ray, MRI, durable medical equipment (DME), physical therapy, and our surgery center, are all conveniently accessible to you.
We also have the following locations available to you in St. Louis as well as throughout Missouri and Illinois:
To schedule an appointment with one of our joint replacement experts, please call (314) 569-0616 or use the button below.
Meet Our Joint Replacement Doctors