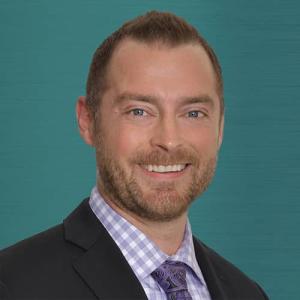 Additional Patient Reviews
To view more patient reviews and ratings for Dr. Doser, please click below.
USING A PATIENT-CENTERED APPROACH, DR. DOSER OFFERS A WIDE ARRAY OF TREATMENT OPTIONS TO HELP HIS PATIENTS EXPERIENCE RELIEF. TO GET TO KNOW DR. DOSER MORE, WATCH HIS SHORT VIDEO HERE.
Dr. Brandon Doser is a fellowship-trained podiatrist who specializes in providing comprehensive care for the foot and ankle. He is highly skilled at assessing, diagnosing, and treating a wide array of injuries and conditions, from bunions and hammertoes to fractures and Achilles tendon ruptures. Dr. Doser believes each patient and problem is unique, and he is committed to working hard to provide his patients with the personalized care they need to get back on their feet.
After receiving his Bachelor of Science degree in biology from the University of Missouri in Columbia, Dr. Doser earned his Doctor of Podiatric Medicine degree at Temple University School of Podiatric Medicine in Philadelphia, Pennsylvania. He went on to complete his foot, reconstructive rearfoot, and ankle residency training at SSM Health DePaul Hospital in St. Louis, Missouri. Following his residency, Dr. Doser received additional training through a reconstructive foot and ankle mini fellowship at the German Orthopedic Institute in Hamburg, Mainz, Bonn, and Munich, Germany.
Dr. Doser has extensive training and experience in performing a variety of nonsurgical and surgical treatment options. His areas of expertise include injections, bracing, arthroscopic surgery, reconstructive surgery, tendon repair, open reduction internal fixation of fractures, and total ankle replacement.
In his free time, Dr. Doser enjoys spending time with his family, watching St. Louis sports, fishing, and being outdoors. He also likes to keep active by running and lifting weights.
Dr. Doser is available to see patients at our main Orthopedic Associates location in St. Louis.

Education & Training
Bachelor of Science in Biology: University of Missouri, Columbia, MO
Doctor of Podiatric Medicine: Temple University School of Podiatric Medicine, Philadelphia, PA
Foot, Reconstructive Rearfoot, and Ankle Residency: SSM Health DePaul Hospital, St. Louis, MO
Reconstructive Foot and Ankle Mini Fellowship: German Orthopedic Institute, Hamburg, Mainz, Bonn, and Munich, Germany
Professional Association
American College of Foot and Ankle Surgeons
Hospital Affiliations
Mercy Hospital
North Campus Surgery Center
SSM Health DePaul Hospital