Total ankle replacement is a surgical procedure used to alleviate symptoms caused by ankle arthritis. During total ankle arthroplasty, or replacement, a surgeon removes any damaged portions of the ankle bones and replaces the arthritic joint with a prosthesis.
Ankle fusion, or ankle arthrodesis, is also used to treat ankle arthritis. Ankle fusion helps relieve pain from ankle arthritis by fusing the talus and tibia bones together to limit motion in the ankle joint. With an ankle replacement, like replacements for other joints, motion and function are restored. Like ankle fusion, ankle replacement can help relieve arthritic pain. However, unlike ankle fusion, ankle replacement surgery will help your ankle joint retain more natural movement and is more appropriate for patients with active lifestyles.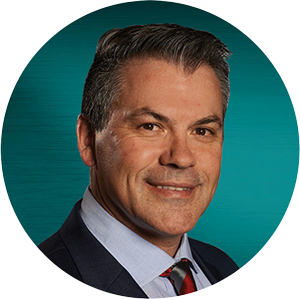 Dedicated to helping you stay on your feet, our fellowship-trained orthopedic foot and ankle surgeon, Dr. Gary Schmidt, offers joint replacement for arthritis of the ankle using the INBONE™ Total Ankle System. Dr. Schmidt has extensive subspecialty training in the foot, ankle, and lower leg and serves as the most experienced ankle replacement surgeon in the state.
The INBONE Total Ankle System uses a unique modular design so your doctor can select the customized prosthesis components based on the size and bone structure of your ankle. The INBONE system prosthesis uses several customizable components to replace both the talus and the lower tibia. This results in a more precise fit and less invasive procedure.
TOTAL ANKLE REPLACEMENT AT ORTHOPEDIC ASSOCIATES
Before suggesting total ankle replacement, your orthopedic surgeon may recommend other treatment options. Surgery is usually only considered if nonsurgical treatment options, such as steroid injections, medications, or bracing, do not lead to desired outcomes.
If nonsurgical treatments are proven to be ineffective, total ankle replacement may be your best option. You may be an ideal candidate for total ankle replacement if you have rheumatoid arthritis or osteoarthritis and your ankle pain affects your daily life and the function of your leg, knee, or hip. You may also benefit from an ankle replacement if an injury has caused you to have post-traumatic arthritis.
Ankle replacement surgery is performed under anesthesia. Your surgeon will make an incision in the front of your ankle. Other small incisions may also be necessary for different types of artificial joints. Your surgeon will then make a cut into the bone structures that join to form your ankle. This will allow your surgeon to place the talar components and the tibial components to remake your ankle joint. Your surgeon may also make adjustments to your Achilles tendon and/or calf muscle if they are tight to help improve your ankle's range of motion.
We will provide you with a comprehensive continuum of care as you recover from surgery to ensure you heal properly and experience long-term satisfaction. Some patients use physical therapy as part of their rehabilitation plan after ankle replacement surgery. You will need to attend all follow-up appointments and carefully follow your surgeon's guidance and instructions.
SUPERIOR ACCESS TO EXCEPTIONAL FOOT & ANKLE CARE
At Orthopedic Associates, our team of board-certified specialists and staff strive for excellence in orthopedic medicine and podiatry, offering exceptional knowledge and skill in every patient encounter. When diagnosing injuries and conditions, our doctors consider all factors and options before offering a care recommendation and are committed to attempting nonsurgical treatment options first before recommending surgery. Our fellowship-trained orthopedic foot and ankle surgeon, Dr. Gary Schmidt, specializes in ankle replacement and has more experience with the total ankle replacement surgery than anyone in the state. Dr. Schmidt will work with you to develop a patient-specific treatment plan that meets your individual needs and concerns.
All along the way—from diagnosis to treatment and surgery as well as postoperative recovery—we are here for you. Our additional services, including digital X-ray, MRI, durable medical equipment (DME), physical therapy, and our surgery center, are all conveniently accessible to you.
If you're experiencing chronic ankle pain due to arthritis or injury, schedule an appointment with Dr. Schmidt in St. Louis by calling (314) 569-0616, or use the button below.